Security Alarm Businesses for Sale
At Egan Security Group, we've got a track record of over 200 successful transactions and we're standing by to help you as well. If you're looking to acquire an alarm industry business, browse our current listings below.
Current Listings for Sale
NEW LISTING – Independently-Owned Southern California Security Alarm Dealer
Established in 2016, this Company is a privately owned security alarm dealer based in southern California with over 400 high quality accounts. The Company's technologies and products include security, fire, integrated control, A/V, structured wiring, video surveillance and other services. They operate in a 1000 sqft office located near major highways for easy access to it's highly concentrated customer base. The Company has a strong brand recognition and excellent reputation.
NEW LISTING – Family-Owned Florida Security & A/V Integrator
Operating on the gulf side of Florida, this family owned, successful, well-established business has been in operation for nearly 30 years! Primarily serving a blend of high-end residential and commercial customers, they offer an even mix of A/V, video surveillance, residential fire, security, and access control. $112,000+ RMR. Has well trained staff with strong management ready to transition with the business. Optional real estate purchase or lease at three locations! This is a great opportunity to grow your business on Florida's Paradise Coast.
PENDING – Southeast Security Alarm Company for Sale
This 60+ year old family-owned security alarm company serving Southern Georgia and the northern panhandle of Florida offers security, fire, access control and video surveillance. Business is a mix of 40% residential and 60% commercial with large monthly volume of new installations, consistent RMR of over $150k and low attrition rate! Optional real estate purchase or lease at two locations. This well-run company won't last long, contact us today!
Well-Established New Jersey Security & A/V Integrator
Based in Northern New Jersey, this single-owner, well-established and profitable security & A/V integrator has extensive experience in design and install. They offer Security, Fire, CCTV, A/V and more with strong cash flow! Great opportunity to grow your business in a thriving market. Optional real estate purchase or lease. This listing will go quickly, don't miss out!
Family-Owned Fire Safety Specialists in New Mexico
Serving New Mexico since 1974, this opportunity offers fire alarm system maintenance, installation, and monitoring, as well as kitchen hood and fire extinguisher services. Located in a rapidly growing area for expansion or adding to your existing footprint. Don't wait, this opportunity won't last long!
Recently Sold Listings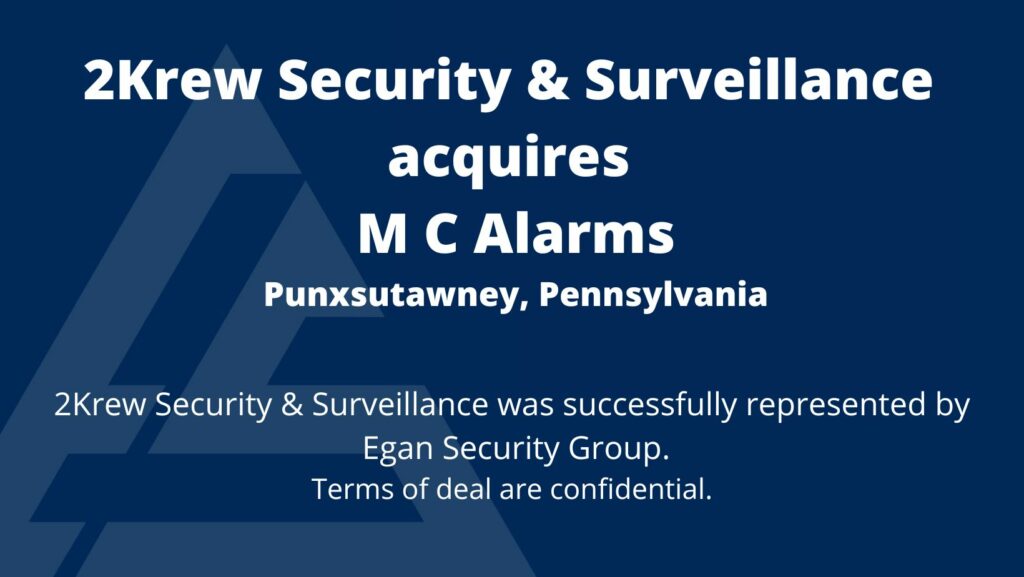 26 Year Well-Established Mid-Atlantic Security & Video Integrator
Full Service Jewel in New Mexico
DMV's Premier Choice
Alabama Southern Belle
Nashville Area Commercial Integrator
Long Term Integrator in Southeastern Pennsylvania
In addition to these opportunities, our principal, Patrick Egan, has close contacts throughout the industry that have been cultivated over his 50+ years running a successful security alarm integrator. He is able to approach business owners, friends and colleagues to gauge their interest in selling, and can often create opportunities based on your specific goals.
Ready to Learn More?
If you're curious about these opportunities, or simply wish to learn more about the process of acquiring a business, contact us today. We're standing by to answer all of your questions and develop opportunities for your consideration.